Why was the US putting so much pressure on the EU to import US fracked gas even before the war in Ukraine?
The latest peer-reviewed scientific studies have found that one third of the total increased methane emissions from all sources globally, over the past decade, is coming from US fracked gas (shale gas).
With this backdrop, on December 20th, 2019, the US imposed sanctions on the German Nordstream2 pipeline being built to bring non-fracked gas directly from Russia under the Baltic sea to stop Russian gas competing with the US fracked gas imports into Europe
"Dig a well, Bring a soldier home" was a slogan in the USA several years ago when America was a net importer of gas. Now, with fracking (and over 1.7 million wells later and counting), the U.S. has become a net exporter of fracked gas. The rush is on to find a new overseas market for U.S. methane before the fracking bubble bursts in the USA.
An Energy Plan to import fracked US gas into Europe was announced by President Juncker in July 2018 following his visit to President Trump in the USA through multiple LNG terminals and countries and imposed via the European Commission Projects of Common Interest (PCI) procedure. PCI accreditation from the European Commission is extremely powerful because any projects put on this list are allocated the status of "overriding public interest" in a special fast-track planning process in each Member State and are thus almost guaranteed development consent. Currently it is proposed that 5 projects for LNG terminals in Ireland, Croatia, Cyprus, Greece and Poland be included on the latest 4th PCI list (out of a total of 14 that have received support from the EU since 2013). These projects, if built, will result in a massive increase in the use of US fracked gas and subsequent massive increase in methane emissions. However, the European Commission has never taken on board the Climate impacts of any of the fracked gas projects it has put on the PCI list even though it was legally obliged to do so.
This was followed on with a bill passed in U.S. House of Representatives on March 25th, 2019 (the "European Energy Security and Diversification Act of 2019" ) that, if it becomes law, would allocate hundreds of millions of US dollars in federal funding over two years to public and private energy development projects in Europe and Eurasia, including LNG terminals, with the potential to use US gas - gas it now markets as "Freedom Gas".
The message from the NordStream2 sanctions is now clear for all to see that importing US fracked gas has nothing to do about bringing "freedom" gas to Europe. Rather, it is about locking Europe into buying US fracked gas for decades to come, with no consideration of the Climate impacts given that the US has signalled its intention to withdraw from the Paris Accord. The US is now using all its political, economic and diplomatic power to force Europe to buy its filthy fracked gas.
The problem with Fracked Gas Imports: Methane Emissions - the Achilles' heel of natural gas
The focus of climate change mitigation actions (as opposed to Climate Adaptation) is to reduce the greenhouse gas (GHG) emissions which are driving climate change.
On Climate Mitigation grounds, European Fracked gas LNG import infrastructure cannot reasonably be expanded at Shannon, Cork and elsewhere throughout Europe because scientific evidence has found that purposeful and leaked/fugitive methane emissions from fracked gas is accelerating global warming with fracked gas imports having a carbon equivalent footprint 44% greater than coal over the full life cycle.
Amazingly, however, unlike the case for carbon dioxide, the Climate System responds quickly to a reduction in methane emissions and could provide the opportunity to immediately slow the rate of global warming by around half a degree celsius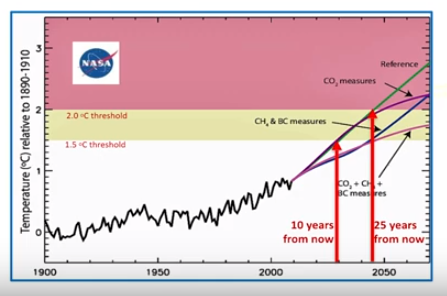 Schindell et al, 2012
Because methane, with a half-life in the atmosphere of 12 years is faster acting than carbon dioxide, it means that an effective reduction in methane emissions in the short term would buy us some desperately needed time to do a complete reconstruction of our energy system. Methane reductions are critical and the Science is now clear that we will not reach our Paris Accord. target of keeping the planet well below 2 degrees Celsius above the pre-industrial baseline with CO2 reductions alone.
Given that the latest peer-reviewed scientific studies have found that one third of the total increased methane emissions from all sources globally over the past decade is coming from US fracked gas (shale gas) it is now clear that intense US pressure to find new overseas markets for its Methane from fracking - such as in The Trade Deal between the US and Europe in July 2018 which agreed an Energy Plan for Europe to build more terminals to import LNG from the US on a massive scale - is no longer sustainable because the US is putting Trade before Climate.
Importing US fracked gas into countries which have banned fracking, like Ireland, amounts to "carbon leakage" because Europe does not count non-territorial emissions in its carbon budgets. On July 16th, 2019, in a major policy turnaround, EU Commission President-elect Ursula Von der Leyen announced that she would "introduce a carbon border tax to avoid carbon leakage". Discussion of the non-territorial emissions from the importation of US fracked gas into Europe, the carbon leakage issue of the next decade, is currently being met with a total silence and a reckless refusal to engage by the European Commission, but such refusal is more and more incompatible with a declared intention by President Von der Leyen to fight runaway global warming. Any new fossil gas infrastructure will amount to a fossil fuel lock in as the infrastructure would be there for the next 50 years at least and any rational person would have to accept that we are now at a crossroads where there must be a transparent evidence-based decision made on preventing fossil gas in the Irish and European Energy mix.
Is gas cleaner than coal?
No. When burned, gas produces less carbon dioxide emissions than coal or diesel oil locally, but it is what is not burned - the purposeful (at least 0.8%) and leaked/fugitive (at least 2.6%) methane emissions over the full life cycle, the non-territorial emissions - that is causing the problem. Methane Emissions are the Achilles' heel of natural gas (natural gas is 95% Methane). Fracking in the US, requiring hundreds of thousands of disposable wells to be dug, as opposed to conventional drilled gas for example, is causing the huge spike of one third of all global methane in the last decade - methane which is not burned and therefore accelerating global warming by absorbing 87 times more heat than carbon dioxide over a 20-year period.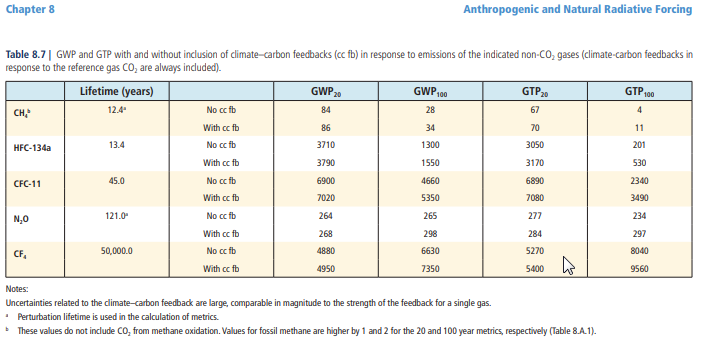 https://www.ipcc.ch/site/assets/uploads/2018/02/WG1AR5_Chapter08_FINAL.pdf chapter 8 page 714
When politicians and the fossil fuel lobby speak about gas as a transitional fuel they obfuscate the impacts of purposeful and leaked/fugitive Methane emissions from fracking on the climate by making no distinction between unconventional/fracked/shale gas and conventional drilled gas. This is neither reasonable nor rational especially when reducing methane emissions into the atmosphere may reverse the rate of global warming.
Are there other impacts other than climate impacts?
Yes, Ireland passed the 'Prohibition of Onshore Hydraulic Fracturing Act 2017', banning fracking in Ireland in recognition of the health and climate impacts of exploiting shale gas reserves;
Locally, fracking poisons people (health) and creates environmental pollution. The process of fracking is harmful at source in the USA too, and it is hypocritical that we would recognise the harm in Ireland by banning fracking, but then create demand for it abroad by importing it.
Evidence that the proposed Shannon LNG project by 'New Fortress Energy" is for the Importation of Fracked US gas
Shannon LNG is being proposed as an LNG Import Terminal by its owners, New Fortress Energy, to receive fracked gas from the one of the world's largest natural gas fields, the Marcellus Shale Formation in Pennsylvania, U.S.A. However, comments by politicians and some individuals from public organisations that the sources of gas for the proposed Shannon LNG terminal have not been specified yet are attempting to cast doubt over this fact. We calculate that almost 100% of the Gas in Pennsylvania is fracked gas since so-called conventional wells are also being drilled in shale and also need to be fracked. However, even if we take the more conservative approach of only unconventional wells being fracked, then it is still proven from official US figures that up to 97.85% of gas in Pennsylvania is fracked gas. This paper puts forward the evidence that Shannon LNG is a US fracked gas import project. This information comes from the following sources:

1. From the Company itself and it's company filings to the US Securities and Exchange Commission (SEC) on November 9th, 2018 where


- New Fortress Energy tells the SEC that " Certain of our suppliers employ hydraulic fracturing techniques"

- New Fortress Energy tells the SEC "Increased regulation or difficulty in permitting of hydraulic fracturing, and any corresponding increase in domestic natural gas prices, could materially adversely affect demand for LNG and our ability to develop commercially viable LNG facilities"

- New Fortress Energy admits to the SEC that it "seeks to use "stranded" natural gas to satisfy the world's large and growing power needs"[…] "We are currently developing two liquefiers in the Marcellus area of Pennsylvania, each of which is expected to have the capacity to produce approximately 3 to 4 million gallons of LNG"

- New Fortress Energy tells the SEC " Shannon, Ireland – We have entered into an agreement to purchase all of the ownership interests in a project company that owns the rights to develop and operate an LNG terminal and a CHP plant on the Shannon Estuary near Ballylongford, Ireland [...] We intend to supply all existing and future customers with LNG produced primarily at our own Liquefaction Facilities. We have one operational liquefaction facility in Miami, are currently are currently developing our Pennsylvania Facilities and plan to develop five to ten additional liquefaction facilities over the next five years"


2. From the Pennsylvania Department of Environmental Protection (DEP) 98.23% of Gas produced in Pennsylvania in 2018 was fracked gas

3. From the US Energy Information Administration (EIA) at least 97.85% of Gas produced in Pennsylvania in 2018 was fracked gas

4. From the Methane Life Cycle Scientist Professor Robert Howarth, Cornell University who informed the Oireachtas Joint Committee on Climate Action on October 9th 2019 that "If Ireland were to import liquefied natural gas from the United States, it would largely be shale gas"

5. From Richard Bruton, T.D., the Minister for Communications, Climate Action and Environment himself who admitted on RTE Radio on May 10th 2019 that the gas coming from the US would be fracked gas

6. From Business and Investment Media Reports on the Issue

7. From Industry Analysis on the Issue

8. From U.S. President Donald Trump on 23rd October 2019 who stated at the 9th Annual Shale Insight Conference in Pittsburgh, Pennsylvania " they won't do any fracking in New York [...] They don't do it in New York. Somebody, someday, will explain why. They do it in Pennsylvania. They do it in Ohio."



EU Commission accused of breaking Climate laws on very day President announces European Green Deal
Environmental NGOs from the U.S. and Europe lodged appeals against the 4th PCI list approved by the European Commission on December 11th, 2019 via the formal Internal Review Process following shocking admissions by DG Energy that it deliberately turned a blind eye to the climate impacts of all Gas projects of common interest. The move brings into questions the legality of the special status given to the entire list of Gas projects of common interest, known as the PCI list.
The appeal was lodged following the shock written admission 5 days earlier by the Director General of DG Energy herself - Mrs Ditte Juul-Jorgensen – that the Commission breached the EU PCI Regulation by not evaluating climate impacts when assessing all the proposed gas PCI projects. This list includes the controversial Shannon LNG project being proposed for the large-scale importation of US fracked gas into Europe. The Trans-Atlantic group of NGOs' appeal raised the accusation that Trade Considerations for the importation of US fracked gas, as agreed by Presidents Trump and Juncker in July 2018, are dominating over Climate in the European Commission institutional mindset, forcing European Commission staff to illegally turn a blind eye to the disastrous Climate impacts of filthy fracked gas imports and blatantly commit discriminatory breaches of EU Regulations in the process.
By law, the potential overall benefits of each proposed project of common interest must outweigh its costs and the criteria to make this assessment must include the Sustainability Criteria, which means reducing Emissions and Climate Impacts.
The Director General claimed that the breach of EU Regulations will be fixed for future PCI lists but did not offer to do any climate impact assessment of the currently proposed PCI list it approved, and which is currently before the European Parliament, rendering the entire PCI list legally unsafe due to a serious discriminatory breach of the PCI Regulation by DG Energy.
The Climate activists were reacting to the latest peer-reviewed research which notes that Methane is a greenhouse gas 100 times more powerful than carbon-dioxide and that shale gas development in North America is the single largest driver of this increase in methane, accounting for one-third of the increase in global emissions from all sources.
The appeal comes on the very day that President Ursula Von der Leyen announced the adoption of the European Green Deal. How the Commission deals with the carbon leakage and non-territorial emissions of US fracked gas imports into Europe on a massive scale which leave a carbon footprint 44% greater than that of coal will quickly reveal whether the European Green Deal is to signal real actions or just aspirations.